Consortium Cembra Gerconsult
The Port of Santos, containing 65 docking berths,  is the largest in Latin America with an area of 7.8 million square meters and a 15-meter-long pier along the shores of  Santos estuary. 
 With static capacity for the storage of dry bulk and liquids of approximately 700 thousand square meters and for solids of 2.5 million tons, its influence is reflected in the industry and agriculture of the Brazil's southeast, south and mid-west, along with many Mercosul countries. In 2016 , cargo volume totaled 114 tons.
The Port is self-sufficient in the supply of water and sewage treatment, the water is collected in Trindade River and conducted to the Port through a 14-kilometer-long pipeline where the water is treated in a Water Treatment Plant and distributed to the terminals and administrative areas of the Port's Right Bank. The sewage collection and treatment system are composed of 17 stations which pump sewage through collector pipes toward sewage treatment plants. The sewage treatment is done through the prolonged aeration system with the removal of up to 98% of organic material. The spare liquid goes through a third treatment step, making it reusable for non-drinking purposes. 
The Port's self-sufficiency in potable water supply and sewage treatment is the result of the joint efforts of Codesp and the private sector, through the lease of its installations and structures. 
In service to Docas Company of the state of São Paulo – CODESP, the Cembra Consortium has been responsible, since April 2014, for the Operation, Maintenance and Conservation of the Systems for Treatment and Availability of Potable Water, Domestic Sewage Collection, Treatment and Disposal, Reuse Water Production and Distribution and the Execution of Laboratory Exams of the Potable Water, Reuse Water and Effluents of the Santos Port.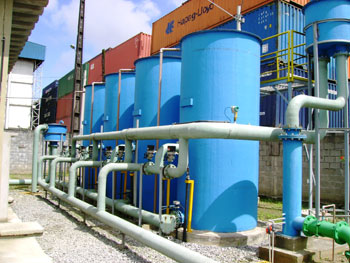 Address
Rua Conselheiro João Alfredo, 26
Bairro Macuco – Santos / SP
CEP: 11.015-220
+55 (13) 3327-8981
+55 (13) 3327-8614